From the section
US & Canada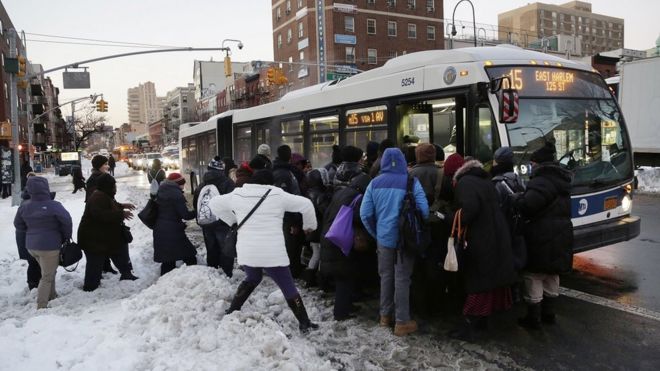 Image copyright
AP
Millions of commuters across the eastern US are battling into work as transport systems struggle to recover from a huge blizzard.
Slippery pavements, crippled train networks, treacherous roads and cancelled flights are among the problems workers are facing on Monday.
The US government in Washington, as well as many schools and businesses throughout the region, are shut.
As the clean up begins, at least 31 people have been left dead.
The fatalities were as a result of car accidents, carbon monoxide poisoning and heart attacks suffered while shovelling snow.
Media caption
Aerial footage showed how roofs caved in under the weight of the snow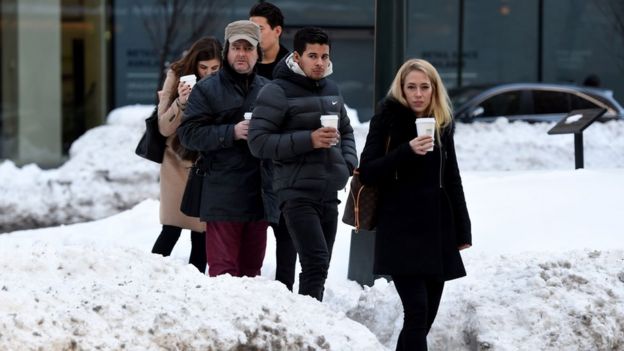 Image copyright
AFP
Image caption
Pedestrians are navigating large snow piles and slippery sidewalks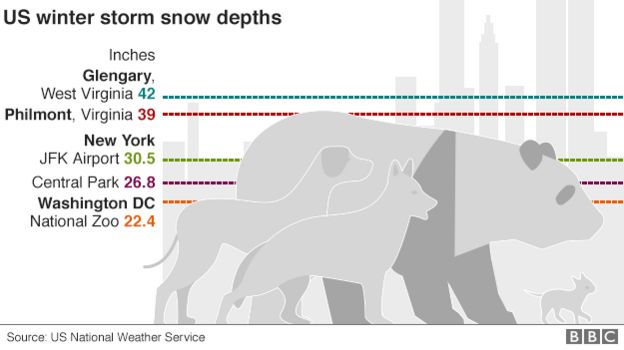 In New York City - which saw its second-highest snowfall since records began in 1869 - a travel ban that effectively shut the city down now been lifted.
New York's Metropolitan Transportation Authority has said that almost all public transport services will be running in time for the morning rush hour.
All New York City schools will open, the New York Times said in its update on services.
New York City Mayor Bill de Blasio urged people to leave their cars covered with snow all week, but he tweeted that the city was now "bouncing back".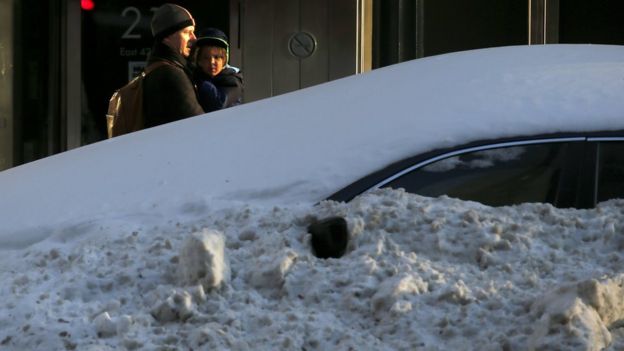 Image copyright
Reuters
Other areas were faring less well.
In Washington DC, less used to dealing with heavy snow, an "extremely limited" metro, rail and bus service is due to run and residents have been warned to expect delays. Officials said fares would not be charged.
Federal government offices and public schools in the US capital will remain shut throughout the day. Many schools all the way up to New Jersey will also be closed.
State employees in Virginia and Maryland were told to stay home on Monday.
Nearly 12,000 flights had to be cancelled over the weekend.
Hundreds more will be cancelled on Monday, although airports in New York City, Baltimore, and Philadelphia have limited services.
---
Why was there so much snow?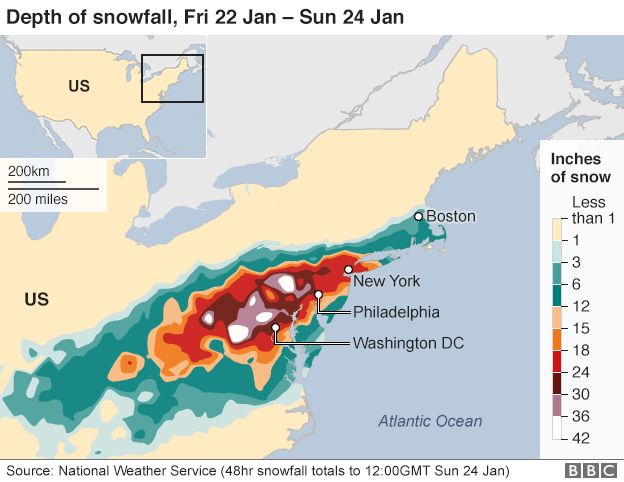 Elements often come together to create snow, but not always in the same way and to this extent - it was the "perfect" winter storm
A low pressure system was able to transport and circulate huge amounts of moisture north from the Gulf of Mexico

The position of the jet stream allowed a low pressure system to be picked up and drawn northwards along the eastern seaboard

Very warm air falling into very cold air from the north and mixing meant there was only one thing that would happen - snow

Very strong winds: low pressure moves in one direction and high pressure in another and, much like cogs in a wheel, they increased the wind

The storm moved especially slowly
---
By the time the snow had stopped falling after two days, late on Saturday, New York's Central Park had received 26.8in, the second-biggest fall recorded since 1869.
The total was just 0.1in (0.25cm) shy of the all-time high, 26.9in, recorded in February 2006.
However, the 26.6in that fell in the park on Saturday alone was a one-day record for the city.
Emergencies were declared in 11 states and in the District of Columbia.
Parts of New Jersey and Delaware also reported coastal flooding.
Media caption
New York resident: "New York loves to take advantage of stuff like this"
Media caption
One man donned a panda suit challenging the Smithsonian Zoo's Tian Tian to a snow battle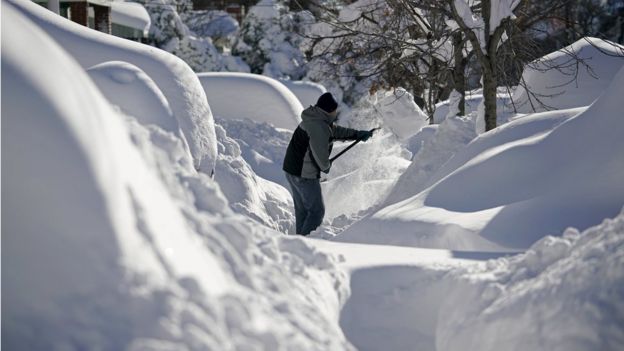 Image copyright
Reuters
Image caption
Union City in New Jersey, across the water from Manhattan, saw particularly high snow drifts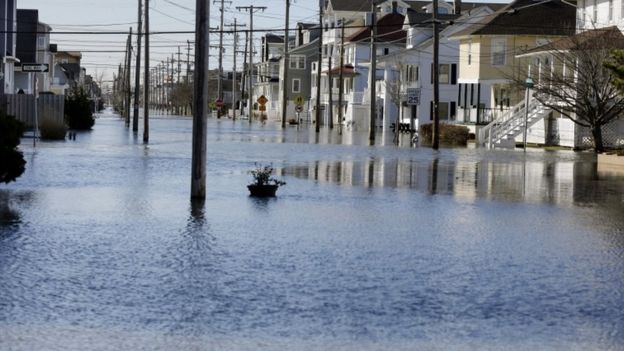 Image copyright
AP
Image caption
Parts of New Jersey - as here in Sea Isle City - saw coastal flooding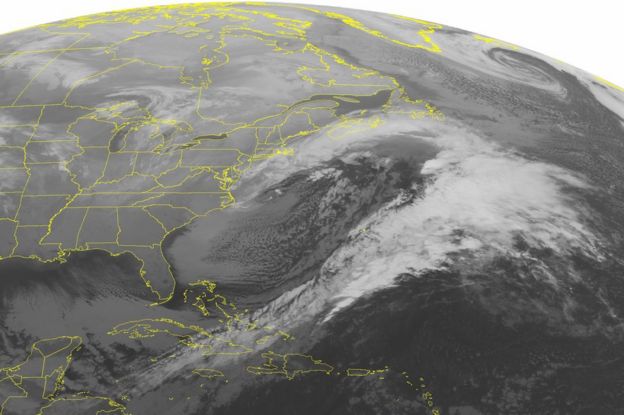 Image copyright
AP
Image caption
A satellite image from 05:45 GMT on Sunday shows the blizzard heading out into the Atlantic